WELCOME TO THE HATCHERY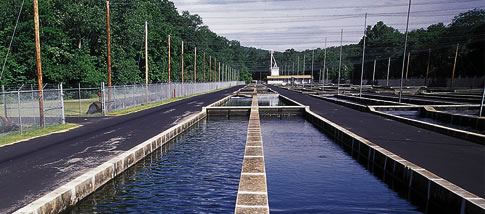 Welcome to the Norfork National Fish Hatchery, the #1 tourist attraction in Baxter County and North Central Arkansas. Nestled deep in the Ozarks, next to the Northfork River and Norfork Lake Dam, the Norfork Hatchery is home to 2.5 Million Brown, Rainbow and Cutthroat Trout that are stocked annually into Arkansas waterways. It is also home to Dry Run Creek, touted by many, as one of the most prestigious fishing streams in the country for kids under the age of 16 and the mobility impaired. Designed for ultimate fish habitat and growth, Dry Run Creek is open year round to anglers and host to many fishing events and school field trips each year. Children not only have the chance to learn more about our trout, but also have a great opportunity to fish for the monsters that lurk in the depths.

The Norfork National Fish Hatchery has been stocking trout in Arkansas's world famous White and Norfork Rivers since 1955. The hatchery's efforts generate an estimated $91 Million dollars for the state of Arkansas each year in fishing revenue. From science projects and fly tying classes, to kids' fishing derbys, Hatchery Outdoor Adventures and our wonderful annual events, the Norfork Hatchery welcomes you and looks forward to your visit with us!
ACTIVITIES

FISHING NORTH CENTRAL ARKANSAS

Ranked as one of the top retirement locations and fishing dest...
TOUR THE HATCHERY

Located in Salesville, Arkansas, next the Norfork Lake Dam, Th...
SCHOOL PROGRAMS

Many schools from around the Twin Lakes Region and the state o...
KIDS FISHING AND OUTDOOR PROGRAMS

Children are the life blood to t...